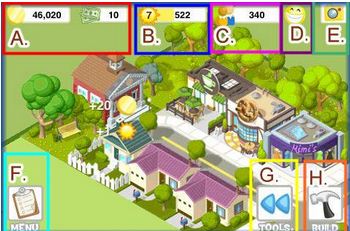 A. Game Currency - You start out with 100,000 Coins and 18 City Cash (both of which can be purchased with real currency if you wish to progress faster in the game.) (Look at bottom of purchase menu to add more currency)
B. Level indicator - Located at the top center of the screen which shows how many experience points you have earned and the bar shows your progress to reach the next level. Each level unlocks new items to purchase for your City.
C. Population - Each time you place a new residential building in your City you add to the population.
D. Population Happiness Indicator - This indicates how happy your population is.
E. Camera - You can take snapshots of your City and save them to your iPhone, iPod Touch, iPad, or to your Facebook photo albums.
F. Main Menu - Tap on the clipboard to take you to the Main menu for settings, help, inviting new neighbors, and sending personal messages to your Neighbors.
G. Tools - Tap here to access the "Build", "Social" and especially the "Edit" button which opens up your inventory area to retrieve gifts sent to you by Neighbors.
H. Build - Tap here to access the areas to purchase businesses, residential buildings, decorations, enhance size of City, and build additional factories for your City.
I. Tools Button - Tap on this button to expand and see the other 3 buttons to the right in the image above.
J. Edit Button - Tap on this button and you will see an inventory button on the far left. This is where all gifts will go once you accept them. On the right of the screen you will see buttons for moving items and for selling them.
NOTE - Locating your Inventory - To access your inventory click on "Tools" then "Edit" and the inventory button will have a padlock icon at the bottom left of the screen
Ad blocker interference detected!
Wikia is a free-to-use site that makes money from advertising. We have a modified experience for viewers using ad blockers

Wikia is not accessible if you've made further modifications. Remove the custom ad blocker rule(s) and the page will load as expected.